Unless you've been living under a rock, there has been a viral recipe going around and let me tell you, it's DELICIOUS! You probably already know that I'm a total coffee nerd/snob. But this is next level. I'm talking WHIPPED and FLUFFY dalgona coffee! ☕️
---
This post contains affiliate links.
---
Fluffy "cloud" coffee? Yes, please!
Dalgona what?! It's kind of like a layered latté; it involves instant coffee, water, and sugar. That's it, you just whisk it! And then it becomes a beautiful, light velvety mousse texture (almost like peanut butter) that you plop on top of cold milk and ice. Yum! The perfect little treat as spring comes and the weather gets warmer. And a fun experiment to keep you occupied during quarantine 😝
And yes, it tastes good! You can thank the sugar for that.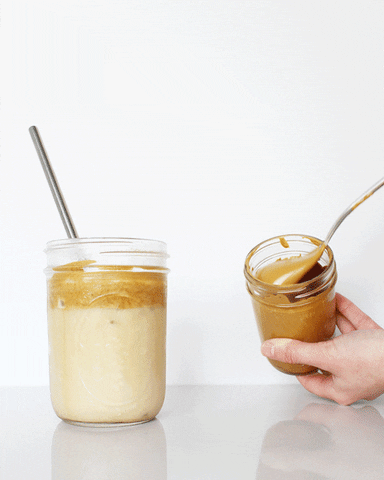 Which instant coffee is the best to use?
Now you might be thinking, instant coffee?! I know, I know. As a self-proclaimed coffee snob, I usually turn my nose at instant too. But I used this organic Mushroom Cups instant coffee (2 packets) and they actually taste really yummy. They contain wild Mediterranean chanterelle and Chaga mushroom. This sounds weird but you can't taste it, I promise! The mixture is designed to prolong and elevate the coffee effect with no jitters and no crashes. Cool, huh? 🍄
I haven't tried using regular coffee, but I think you need to use instant because it dissolves right away and isn't gritty.
Related blog post: Easy DIY Cold Brew Coffee Recipe
Okay, enough talking. Let's get to the recipe. It's super simple and just takes a few minutes!
Quick Dalgona (Whipped) Coffee Recipe! | 3 Ingredients
Ingredients
2 tbsp organic cane sugar
2 tbsp instant coffee powder (I use Mushroom Cups)
2 tbsp water

(cold, filtered)

1 cup milk of choice
Crushed ice
Instructions
Combine water, instant coffee, and sugar. Whisk for a minute or two until it becomes fluffy! Using an electric whisk helps.
That's it! Fill a cup with crushed ice and milk then put a few dollops of the coffee whip on top and stir. Enjoy!
Store the leftovers in the fridge. Or eat it all at once, I won't judge!
https://organicallybecca.com/dalgona-whipped-coffee-recipe/
Make your own homemade nut milk!
By the way, if you want to try making your own homemade nut milk to make this recipe dairy-free, you should totally check out the Almond Cow machine. I have been loving walnut and pecan milk with this recipe! 🥛
And if you want to try making a whipped dalgona matcha, check out this recipe from Unbound Wellness!
---
Let me know if you try it! Or perhaps you have a variation of the recipe that you just love. I'd love to try that, too. Either way, enjoy it!