According to Kjaer Weis, it takes over 1000 years for a plastic makeup compact to decompose in the environment. That's a long time, and think of all the plastic compacts you've used in your lifetime! And researchers from The Ocean Conservancy suggest there are as many as 51 trillion pieces of microplastic in our oceans at present 🐬
So you might be wondering, how can I help change this? Today I'm partnering with Jessica from Everyday Eco Living to bring you a huuuuuge list of natural makeup and personal care brands that go out of their way to offer you sustainable or zero waste packaging. Let's get started!
---
What Packaging is Considered Sustainable?
You may be wondering about recycling of plastic containers. Unfortunately, the majority of discarded plastic is not recycled. In fact, the EPA estimates that only 9.5% of plastic discarded in 2014 was actually recycled.
In addition to environmental concerns, plastic packaging is not good for your health. Certain chemical components of plastic, such as BPA and phthalates, have been linked to harmful health effects like hormone disruption, obesity, and even cancer. Learn more in this blog post.
Choosing products in sustainable packaging is one way to avoid harmful chemicals and cut back on the amount of plastic that ends up in landfills. The materials below are great options when choosing sustainable packaging! 🌎
---
This post contains affiliate links.
---
Natural Brands with Sustainable Packaging:
Makeup: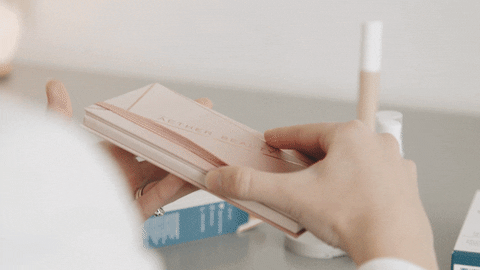 Aether Beauty Eyeshadow Palette
You might also like this post…
How to Sustainably Discard Old & Empty Cosmetics: Everything You Need to Know
Shower, Hair, + Hygiene Products:
I also highly recommend EarthHero, they have SO many swaps!
Body + Skincare Products:
Household + Other Products:
You might also like this blog post…
A Complete Guide to Non-Toxic & Eco-Friendly Kitchen Supplies
---
Do you know of any other brands that use zero waste or sustainable packaging? Let us know in the comments and we'll add them to the list! 👇
This post written in collaboration with:
Jessica is the founder of Everyday Eco Living, a blog dedicated to providing practical ways to live a more eco-friendly lifestyle. As a working mom of two, she has found a way to incorporate green living into a busy lifestyle. Go give her a follow on Instagram: @everydayecoliving.